The Self-Adhesive Cap for a Spill-Free Drink!
Welcome to our new, improved store. Whether you are a new or existing CruzinCap customer you will need to create a new account during checkout.
Familiar with the "SPILL ON THE GO" …You know… coffee on the console, in your lap, etc… Yeah! Cruzin Caps by FastCap eliminate the S.O.G. It's a simple, cost effective, and fun way to cover the sip hole on drink lids…just peel and stick, and it resticks as you drink.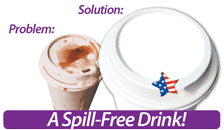 Did you know we are now using Food Safe Ziplocs™ instead of clamshells for Cruzin Cap packaging? They are more food safe and better for the environment!